For an enterprise cybersecurity program, internal audits are a critical function to ensure that the organization's security program is scaling at a similar rate to the rest of the organization. With digitization transforming business operations, ensuring that the proper controls are in place as the enterprise evolves is now a board-level concern. The proper audit management program can help organizations expedite, standardize, and communicate their internal audit program management strategies while simplifying activities and results down to key metrics for C-level executive review.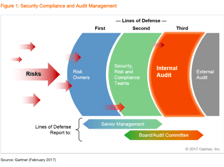 Internal auditors act as the third line of defense against threats to the organization and must maintain internal control of the information security organization's risk and compliance posture through strategic internal-based audit activities. With the increase in geographic and industry-based compliance requirements, auditors using a paper-based approach with audit checklists to compliance are increasingly experiencing burnout and audit fatigue caused by managing a majority manual-effort driven internal program.
Choosing the best internal audit management software or cybersecurity audit tool for your organization to manage audits is ensuring that you and your team are using a solution that empowers your team and delivers quality audits, planning and audit reporting, and other various functionalities to enhance the expertise and abilities of internal audit management teams.
Critical Capabilities of Audit Management Software
Audit scoping
The foundational aspect of a security program, your internal audit software solution must be able to support the development of audit scope and the maintenance of that scope through execution.
Audit Risk Assessment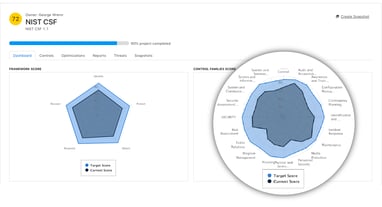 Using audit management software to gather data for a baseline helps the entire cybersecurity organization understand where the organization is and where it needs to be. This is critical for audit and project planning to remediate any inherent or residual risk within the organization.
The CyberStrong integrated risk management (IRM) platform supports an in-depth audit risk assessment throughout the solution. The risk assessment functionality rolls up into spider graphs and other charts in real-time that can be shown to both non-technical and technical stakeholders to illustrate where your organization is weak, and where to direct resources for risk control.
Audit Project Management
Following the risk assessment, your audit management processes need to be capable of supporting remediation efforts by tracking activities and assigning tasks based on the determined approach. This audit management software solution should be able to assign resources (people, time, controls) to specific tasks and activities within business processes.
In the CyberStrong integrated risk management platform, audit managers manage teams across multiple assessments and tag specific controls to a given assessment. This single-pane-of-glass approach provides managers a central system of reference and a level of insight previously unseen in audit management solutions.
Issue Tracking
To streamline the management process, the audit management software should also be able to automate the follow-up process to ensure that assignees are staying on track.
Within CyberStrong, managers can assign specific controls within an assessment to their team members with assigned due dates. By automating the assignment and follow-up process, audit teams focus on what's important and have those priorities at their fingertips.
Time and expense management
The ability to track and report on time and expenses for individual projects. An audit management tool that facilitates an integrated risk management approach with complete audit management capabilities allows you to track details such as time and expenses in the notes and comments within an assessment.
Audit Work Paper Management
Your audit management software must be able to act as a single source of truth for supporting documentation including audit trails and evidence attachments for individual control tests.
A strong audit management solution will empower leaders to deliver an integrated risk management approach to audit and compliance, allowing them to view all evidence associated with any given control in various audit assessment views and reports.
Reporting
At a basic level, your audit management software must be able to consolidate the findings in order to generate a report for the audit committee.
To keep above-average general control of enterprise information systems and compliance posture, however, a stronger audit management solution will provide downloadable reports and visualizations that can be delivered to the Board and internal audit committee to reflect critical security information in a way that's valuable to those stakeholders.
Internal Audit Performance Management
The solution must also act as a single pane of glass for the internal audit process, defining and tracking audit departments and auditors' KPIs that are easily understood by everyone from Chief Audit Officers to Chief Information Security Officers, and even to the Board of Directors.
The value of an IRM System with audit management functionality
Auditors are a leading force in the shift from a compliance-based approach to a risk-based strategy in many enterprise-level data security organizations. External forces such as technology expansion, the need to maintain proper data integrity, and the increase in data collection and use across the organization, and automation are causing regulatory bodies to rapidly release a patchwork of regulations spanning geographies and industries.
Forward-thinking security teams see the value of a risk-based approach instead of checklist compliance management, and integrated risk management-based solutions that facilitate the audit management use case can help you make these aspirations a reality. For auditors and auditing teams, the rise of integrated risk management further automates the auditing process, providing a single source of truth for teams to access during internal audits and remediation.
User friendly integrated risk management solutions like the CyberStrong platform that are backed by artificial intelligence help security teams make data-driven remediation plans and streamline the reporting process to deliver to the internal audit committee, as well as executive management across departments. Information technology audits are more streamlined, easy to understand, and accurate due to audit management systems such as these.
Read more about the value of an integrated risk management approach and the critical capabilities of an integrated risk management solution in the CyberSaint Integrated Risk Management Solution Buying Guide.