The Center for Internet Security (CIS) is a non-profit organization responsible for developing best practices to improve Internet security and protect against security incidences. The frameworks set forth by CIS affect everybody, from people to organizations and governments, and were done to create safe, reliable standards of protection for IT systems and cybersecurity programs from data breaches. The CIS Controls, formerly the CIS Top 20, make a strong foundation for a newly maturing cybersecurity program. Below we explore the top 20 Critical Security Controls and their requirements.
In response to the changing technology, work, and threat landscape, The Center for Internet Security (CIS) has launched CIS Controls v8. This update now has 18 key controls with 153 safeguards and addresses cloud and mobile technologies.
The CIS Critical Security Controls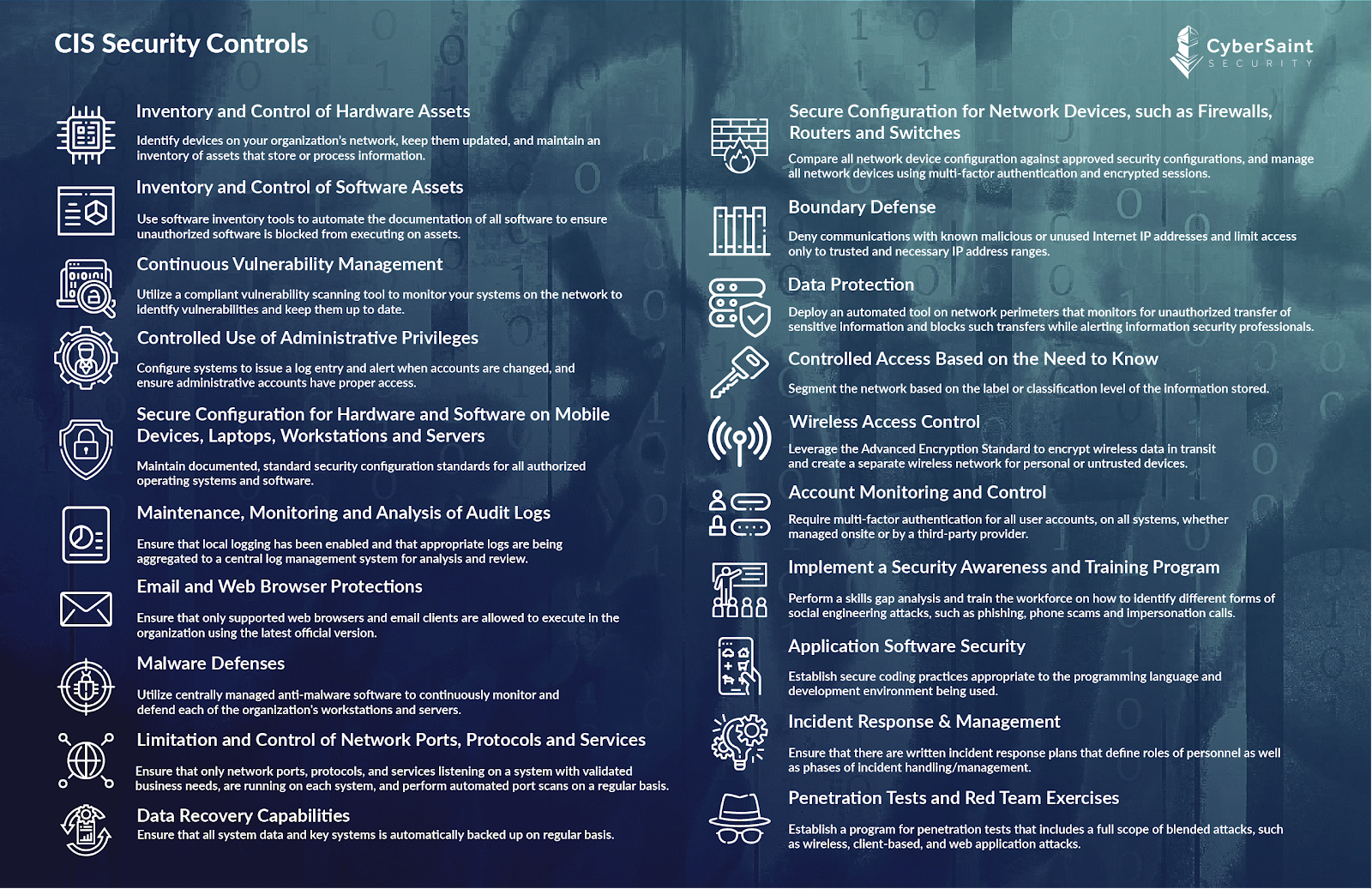 | | |
| --- | --- |
| Inventory and Control of Hardware Assets | Identify devices on your organization's network, keep them updated, and maintain an inventory of assets that store or process information. |
| Inventory and Control of Software Assets | Use software inventory tools to automate all software documentation to ensure unauthorized software is blocked from executing on assets. |
| Continuous Vulnerability Management | Utilize a complaint vulnerability scanning tool to monitor your systems on the network to identify vulnerabilities and keep them up to date. |
| Controlled Use of Administrative Privileges | Configure systems to issue a log entry, alert when accounts are changed, and ensure administrative accounts have proper access. |
| Secure Configuration for Hardware and Software on Mobile Devices, Laptops, Workstations, and Servers | Maintain documented, standard security configuration standards for all authorized operating systems and software. |
| Maintenance, Monitoring, and Analysis of Audit Logs | Ensure that local logging has been enabled and appropriate logs are aggregated to a central log management system for analysis and review. |
| Email and Web Browser Protections | Ensure that only supported web browsers and email clients can execute in the organization using the latest official version. |
| Malware Defenses | Utilize centrally managed anti-malware software to monitor and defend each organization's workstations and servers continuously. |
| Limitations and Control of Network Ports, Protocols, and Services | Ensure that only network ports, protocols, and services listening on a system with validated business needs are running on each system, and perform automated port scans on a regular basis. |
| Data Recovery Capabilities | Ensure that all system data and key systems are automatically backed up on a regular basis. |
| Secure Configuration for Network Devices, such as Firewalls, Routers, and Switches | Compare all network device configurations against approved security configurations, and manage all network devices using multi-factor authentication and encrypted sessions. |
| Boundary Defense | Deny communications with known malicious or unused Internet IP addresses and limit access only to trusted and necessary IP address ranges. |
| Data Protection | Deploy an automated tool on network perimeters that monitors for unauthorized transfer of sensitive information and blocks such transfers while alerting information security professionals. |
| Controlled Access Based on the Need to Know | Segment the network based on the label or classification level of the information stored. |
| Wireless Access Control | Leverage the Advanced Encryption Standard to encrypt wireless data in transit and create a separate wireless network for personal or untrusted devices. |
| Account Monitoring and Control | Require multi-factor authentication for all user accounts on all systems, whether managed onsite or by a third-party provider. |
| Implement a Security Awareness and Training Program | Perform a skills gap analysis and train the workforce on how to identify different forms of social engineering attacks, such as phishing, phone scams, and impersonation calls. |
| Application Software Security | Establish secure coding practices appropriate to the programming language and development environment being used. |
| Incident Response & Management | Ensure that there are written incident response plans that define the roles of personnel as well as phases of incident handling/management. |
| Penetration Tests and Red Team Exercises | Establish a program for penetration tests that includes a full scope of common attacks, such as wireless, client-based, and web application attacks. |
Implementing CIS controls doesn't need to be as daunting as it seems with the help of an integrated risk management (IRM) solution. Thankfully, CyberStrong can streamline and automate your compliance efforts with these 20 most critical security controls and many other gold standard frameworks like the NIST CSF, DFARS, and ISO.
If you have any additional questions about the CIS cybersecurity controls, IRM, or how CyberStrong can help bolster your cybersecurity and compliance objectives, click here to schedule a conversation.