December Product Update
Crosswalks, graphics, and filters - Oh my!
🎵♪🎵
New crosswalks on frameworks and labels on graphics
Helpful team filters and alerts on late status
Clear vector images downloaded with ease
These are a few of our favorite things.🎵♪🎵

The holidays were especially good to us this year with several brown paper packages tied up with strings and left under the tree.
Keep reading below to see which features and updates we unwrapped this past December.
Featured Updates:
Crosswalking
Leveled Scoring Crosswalks

Crosswalk Indicators
Hidden Labels

Exportable & Printable Graphics
Control Assignments and Status

Team Filters



Reporting

Control Tags in POAM Reports



Customer Experience

Improved Responsiveness

Updated Account Verification
Crosswalking
Leveled Scoring Crosswalks
Wands at the ready-leveled scoring frameworks can now be crosswalked! Defenders against the dark arts (a.k.a those within the defense industrial base) can now crosswalk leveled scoring frameworks, like CMMC, with a simple flick of the wrist and a few mouse clicks. Almost like magic!

To crosswalk a leveled scoring framework, users will follow the typical procedure for cross walking, as outlined in our July and October releases; however, similar to how you'd select a level when creating a level-based assessment, the last step of the crosswalking process will prompt users to enter the level they wish to assess the new assessment at prior to generating the new assessment.
Crosswalk Indicators
Clicking the crosswalk icon and landing on an empty page of target frameworks is a bit like waiting in line for ice cream only to find your favorite flavor just sold out. While we don't have an endless supply of ice cream or crosswalk results (yet), we've got the next best thing - transparent indicators!
With the latest release, crosswalk icons will no longer appear next to every assessment. Instead, the icon will only be visible alongside assessments with available crosswalk results. If you do not see an icon for an assessment you would like to crosswalk, please contact your Customer Success Manager.
Dashboard Graphics
Hidden Labels
Updates to the Risk Register's Financial Impact chart will have you singing, "I can see clearly now the crowding is gone." No obstacles to stand in your way here! Not only is the chart viewable in full screen as of the last release, but now, the bubbles are following strict COVID-19 guidelines and have been spaced further apart, making them easier to read.
If you're a rockstar with a densely populated register, there may still be a few instances where your risk labels overlap. Not to worry, we've got an umbrella for that! Users can now turn off the bubble labels by selecting 'Hide Labels' from the hamburger menu in the top right corner of the chart. Once labels are hidden, you can still view information for each risk via the pop-up window that appears when hovering over your bubble of choice.
Exportable & Printable Graphics
But first, let me take a selfie - a cyber risk posture selfie, that is. If you're into digital compliance scrapbooking or looking to create a collage for your upcoming board meeting, you're in luck! All graphics within the CyberStrong solution are now printable and downloadable as PNG, JPEG, and SVG Vector images.

To print or download a graphic, click the hamburger menu in the top right corner of the graphic and then select the print option or the desired export format from the list.
User Management
Control Assignments and Status
As a compliance manager, getting your ducks in a row can be a bit tricky if you don't know which ducks are sinking, swimming, or waddling in circles. With the latest release, CyberStrong's new user management features make it easier than ever to quickly assess the following for each user:
Which teams they belong to
How many controls, if any, have been assigned to them
Completion status of their assigned controls
Number of past due controls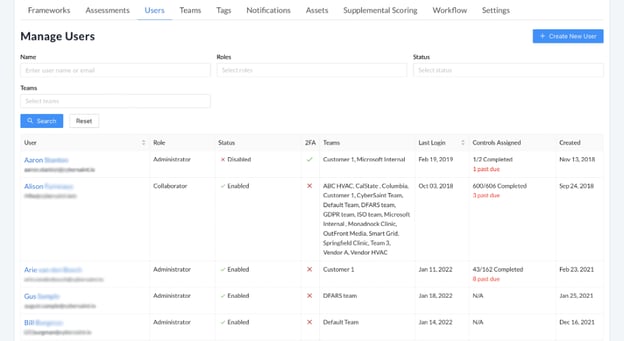 Team Filters
Checking up on the status of controls assigned to a particular team? No problem! You can now filter by teams when searching for users on the 'Manage Users' page.
To filter by team, click within the 'Teams' field, select your desired team from the drop-down list, and click the blue 'Search' button below the 'Teams' field. Once you click 'Search', only users who are on the team you filtered by will appear on the page.
When multiple teams are selected within the filter, users who belong to one or more of the selected teams will appear in the list.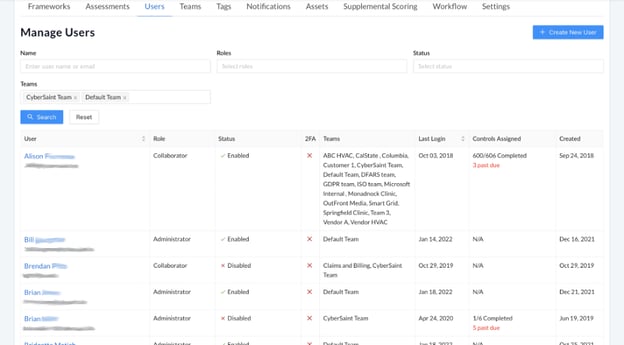 To remove a team from the filter, click the 'x' to the right of the team name. To remove all filters, click the white 'Reset' button below the 'Teams' field.
Reporting
Control Tags in POAM Reports
Control Tags can be a helpful way of identifying a technology, tool, mitigation strategy, solution, or other criterion of choice associated with a control. To build upon their usefulness, we've added Control Tags to all POAM Excel reports. Within the spreadsheet, control tags will appear as a string of text separated by commas.
Customer Experience
Improved Responsiveness
Bueller? Bueller? Bueller? Whether you're at the airport, asking an important question, or waiting for a page to load, delays are a real drag. But, while Ferris was having his day off, CyberSaint was hard at work updating the way we process form inputs on controls. Now, user inputs will yield immediate responses while the associated fields update in the background.

Updated Account Verification
Out with the old, in with the new! While it's no Princess Diaries type transformation, our Account Verification page has undergone a few nips and tucks and is ready for her closeup.
After receiving an invitation to the CyberSaint solution, users will be brought to the following page to verify their account: