For almost all organizations, large and small, the National Institute of Standards and Technology (NIST) Cybersecurity Framework (CSF) represents the gold standard for managing cybersecurity risk. Initially developed to secure the energy and utilities sector through an executive order under President Obama, the NIST CSF has been found to be flexible and scalable enough to serve organizations of any size and industry significantly when updated in version 1.1. A framework of this caliber requires a different form of solution to implement.
What Is The NIST CSF?
The NIST CSF is a cybersecurity framework designed around outcomes rather than specific controls - meaning the CSF does not explicitly include technical controls. Instead, the CSF is a control set that allows teams to report to technical and business leaders about security posture without getting lost in the weeds of technicalities.
Built on five functions - identify, protect, detect, respond, and recover - the NIST CSF core consists of 23 categories within each of those Framework Functions. According to NIST, The Categories were designed to cover the breadth of cybersecurity objectives for an organization while not being overly detailed. It covers cyber, physical, and personnel topics, focusing on business outcomes.
The flexibility of the framework comes especially from Profiles. NIST designed the profiling methodology to be a marriage of the business objectives that businesses seek to achieve by accepting certain cyber risks, the controls to mitigate those risks, and the threats facing the organization. Together, these three forces influence how an organization prioritizes certain functions and categories of the CSF, making it flexible.
Lastly, the Tiers of the framework inform the degree to which an organization can and will implement the CSF. Ranging from partial to adaptive, the NIST CSF Tier structure is designed to give context to how well cybersecurity risk decisions are integrated into existing business processes. NIST makes sure to point out that the Tier structure is not specifically a maturity model.
NIST CSF Tools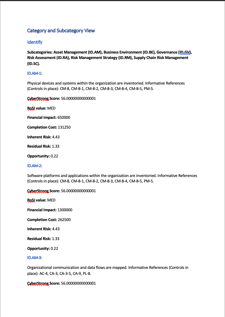 When implementing the NIST CSF as a part of a cyber risk management strategy, it is critical that the tool a team uses to manage and execute the cyber strategy can support a flexible framework. Static tools such as spreadsheets and modular GRC products, unfortunately, do not support the CSF as they should - given that information security teams are becoming increasingly integrated, the need for an integrated and nimble solution is becoming more and more paramount to a team's success.
As an information security team goes about implementing the appropriate activities in line with their target Profile and Tier, automation must come into play. The time invested in aggregating and visualizing data from spreadsheets across modules is a drain on already thin resources, and using a tool to automate those processes saves both time and money. Further, the decision to implement often comes from senior-level management who need to see progress - a tool that empowers teams to simplify that process and provide varying levels of insight into the program depending on their audience can help provide that visibility.
Finally, without comprehensive visualization, the implementation of the 385 processes and actions included in the CSF managers lose track of where their program is. High-level visualization of assessment and remediation activities in real-time gives managers and directors the information necessary to report to senior management as well as contextualize that data in a business setting.
A Solution As Powerful as Your Framework
Implementing a gold-standard framework like the NIST CSF is no small task - it can often be a long-term project for many teams. Security leaders must opt for a flexible solution that automates and augments their team's ability to achieve the level of security that the CSF provides. Using an integrated cyber risk management tool can help organizations scale as well as iterate on cybersecurity programs while increasing visibility across the organization.
The CyberStrong platform is built on the NIST CSF and provides benchmarking across all standard and hybrid/custom frameworks. Learn more about CyberStrong and schedule a demo here.