Corporate compliance and oversight (CCO) is one of the main pillars to a strong integrated risk management (IRM) program and solution. Today, compliance leaders are faced with a rapidly changing landscape of new compliance requirements from regulatory bodies, partners, and vendors. When iterating your corporate compliance program, ensure the solution that supports your compliance team has the core requirements necessary to empower your team and augment their efforts.

Policy Development and Management

Compliance policies are one of the primary forces that shape internal security requirements. As a result, any CCO solution must be able to support the development and management of those policies. Specifically, the ability to directly map your policies and controls to compliance requirements to ensure your organization meets given security requirements. These requirements can be delivered from industry governing bodies (HIPAA, DFARS, PCI) or through a partner (DFARS in this case if you are apart of a DoD supply chain). Alongside regulatory information management, your CCO should also support the management of internal policies such as ethics and behavior. A strong corporate compliance solution will be able to support the end-to-end creation and maintenance of your policies including the creation and version control as well as an approval workflow.
Aggregation and Normalization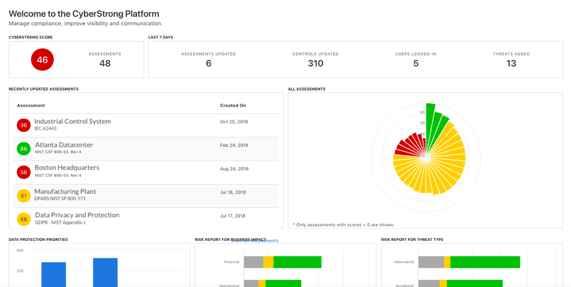 Any enterprise organization faces a complex world of regulatory requirements and compliance officers face the challenge of fatiguing out. Quality management software such as CyberStrong allows you to create automated workflows and aggregate your compliance requirements from multiple sources and with features like control tagging, know which controls help you meet which compliance requirements. This combination of compliance requirements serves as a facet of a strong risk-based security program.
Control Assessment and Monitoring


A CCO platform, or IRM platform with CCO capabilities such as CyberStrong, supports the compliance process from end-to-end. This means that alongside the aggregation of compliance requirements, a strong compliance management tool will support the assessment and monitoring of controls necessary to meet your compliance requirements. The features necessary to accomplish this task are collaborative functions (assignments) to support your compliance team, control catalog and reporting, and compliance metrics.
The CyberStrong Integrated Risk Management solution supports all of these functions through control tagging, our collaborative functionality, and our data visualization capabilities that give a real-time view of your progress to compliance.
Workflow and business process management

Agility is a critical trait of a successful compliance leader. With the release and update of compliance requirements from myriad sources, your compliance management software must be able to support ever-evolving management processes and workflows.
Your compliance software must be able to provide the flexibility for continuous refinement and development while also helping to support current efforts. IRM platforms with CCO abilities like CyberStrong allow you to integrate new frameworks, and customize frameworks all built on the gold-standard of the NIST CSF. The CyberStrong platform also supports program management at a more granular level with control assignments and tagging to keep your team accountable and organized.
Investigative case management

No organization is 100% secure and as a result, compliance officers must be prepared to manage compliance issues and corrective action. Your CCO solution must be able to support this effort with compliance incident management and analysis. The solution must be able to also support the transparency that a risk-based compliance program necessitates. This includes relaying efforts and needs to non-technical stakeholders. Tools like CyberStrong are able to effectively and easily convey critical information to both technical and non-technical departments and leaders.
Don't mistake complexity for value
Digitization is causing a strong CCO program to be indispensable to any enterprise. In choosing a solution do not mistake complexity for value. The solution you choose for your organization must lend the flexibility necessary to navigate the rapidly changing regulatory and compliance landscape. Ensure that your solution adheres to strong best practices and supports the development and maintenance of a risk-based approach. The compliance field will only come more complex in the coming years and a checkbox approach will leave your organization taxed. IRM systems like the CyberStrong platform that are built on the gold-standard NIST CSF empower compliance teams to meet the necessary compliance while providing a single-pane-of-glass view to senior leadership.
Read more about the value of an integrated risk management approach and critical capabilities of an IRM solution in the CyberSaint Integrated Risk Management Solution Buying Guide.
See why leading compliance teams use CyberStrong: